How To Market Mossgiel For Your Business – Provenance
Customers demand a lot these days, especially when it comes to food. For reasons of environmental impact, concern for animal welfare, health considerations; a vital part of marketing today is communicating the "Three P's" to your customers: provenance, provenance, provenance.
Provenance – Provenance – Provenance
We have experience of supplying many hundreds of businesses – Bakers, Butchers, Cafes, Cheesemakers, Coffee Roasters, Coffee Shops, Ice Cream Shops, Restaurants and Retailers – and we speak to many people about how to present our Milk to their customers.
www.VisitScotland.com, who grade businesses both for the "Green Tourism Award", the "Taste Our Best" scheme and for the more general Star Rating given by their "Quality Assurance Scheme", place a lot of emphasis on sourcing and provenance. We supply many businesses who have a Green Tourism Award, including the only Green Tourism Gold Award holder in North Ayrshire. It seems to us that the businesses that do best in such audits and receive the best ratings and awards have put the most thought and effort into where they source their ingredients from and also into how they communicate these choices to their customers.
Customers care about provenance; they want to know where their food has come from.
Based on our experience interacting with the lovely people that drink our Milk, your customers will care about your choice of Milk for one (or possibly more) of the following broad reasons:
Re-usable packaging

Food Miles / Local Production

Carbon Emissions

Biodiversity

Health

Taste
One of the reasons for having as many articles on this website as we do is to try and help our supporters understand as many different ways to communicate these benefits to their customers as possible.
Example Menu Provenance Statements
The rules of this game are that space is tight, so be as concise as possible. Feel free to use the following as a guide but remember to use your own words as much as possible when it comes to putting anything online. Google prefers original content.
When crafting provenance statements, a good format to follow is to answer
What have you done?
Why have you done that?
How does that benefit your customers?
Introductory – What have you done?
"We source our milk from Mossgiel Organic Farm."
"We get get our milk locally from Mossgiel Organic Farm."
"Our milk comes from Mossgiel Organic Farm (18 miles)."
Reasons for choosing Mossgiel – Why have you done that?
Mossgiel Farm is a certified Organic Farm located in Ayrshire. Bryce converted his Family Farm to an Organic production system in 2018, as he looks to embrace management practices that work with, rather than against, the natural environment.
Examples of the changes he has made include:
"Mossgiel is a certified Organic Farm."
"Mossgiel is a Family Farm."
"Bryce Cunningham is the third generation of his Family to farm Mossgiel."
"No GM crops are planted on Mossgiel and no GM food is fed to the Cows. The Organic certification ensures and enforces this."
"Mossgiel Cows are fed Grass all the time. No cereals are fed to the cows at Mossgiel."
This philosophy extends beyond Agriculture to include production, which Bryce has brought back on-site in order to reduce food miles and keep things as local as possible.
"Mossgiel is the first Farm in the UK to completely stop using single-use plastic packaging."
"Milk is delivered to residential customers in good old-fashioned 1 pint bottles."
"Milk is also delivered in 3 litre, 5 litre or 20 litre tubs. These sizes are usually more useful to commercial customers: coffee shops, restaurants etc."
"Reusing packaging is 20 times more efficient than recycling packaging."
"Semi-Skimmed Milk, Whole Milk and Cream are all produced and delivered."
"Mossgiel Cows eat only Organic Grass."
"Good old-fashioned Milk where the Cream rises to the top."
"The Cream in Mossgiel Milk has not been emulsified (ie broken by being squeezed through a very small hole at a very high pressure)."
"Cream in its natural state takes on flavour better and is digested better."
"Mossgiel Organic Whole Milk contains all the cream that our Cows produce and this varies between 4.5% and 4.9% during the year. (Standardised "Whole" Milk ~ 3.6%)"
"Mossgiel Organic Cream contains all the fat that our Cows produce: 48%"
"This means that the Milk is heated at lower temperature (68°) for a longer time (5 mins) to retain the most Organic flavour and so as not to destroy proteins."
As well as his activities as a Climate Change Champion, Bryce regularly speaks at Higher Education establishments. He also campaigns for Regenerative Farming, Organic Farming and Environmentally Friendly Production via radio and TV appearances.
Rationale – Why have you done that?
General Rationale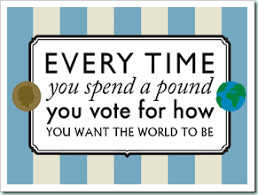 Customers understand that every pound counts. Every pound spent supports the whole system and supply chain of the product on which it is spent. Customers also understand that you get what you pay for and are willing to pay slightly more for something that aligns with their values. They are more loyal to businesses that they know share their values.
The example phrases below all follow the format: "Do you care about this? So do we, and here's what we've done about it." This is what makes a big difference to people. Actions. There are plenty of businesses out there paying lip service to these subjects, but a lot fewer actually changing their behaviour to benefit them. People are not stupid and they can tell the difference.
Complete Examples For Menus
Short Examples:
"Milk: Mossgiel Organic Farm. Local, waste-free packaging, highest animal welfare standards, carbon positive, tasty good old-fashioned cream-at-the-top Milk."
"Milk supplied by Mossgiel Organic Farm: local, re-usable packaging, highest animal welfare standards, carbon positive, tasty, healthy, GM-free, good old-fashioned, cream-at-the-top Milk."
"Our Milk comes locally from Mossgiel Organic Farm, who are the first Dairy in the UK to stop using single-use packaging. They process their Milk on-site in the old-fashioned way, further reducing food miles while evoking the taste of yesteryear when Milk wasn't white water!"
Longer Example:
Our Milk is supplied locally by Mossgiel Organic Farm.
Mossgiel is the first Farm in the UK to completely stop using single-use plastic packaging. We believe that far to much plastic is ending up in the ocean and that far too much plastic makes its way into landfill. We believe that it is much better to re-use packaging than re-cycle it. By switching to Mossgiel, we save 10,000 2L plastic Milk jugs per year.
We believe in supporting local companies who are making a carbon positive contribution to climate change. Mossgiel Organic Farm is responsible for capturing 388 tons of carbon per year from the atmosphere.
We believe in supporting local companies who are actively improving biodiversity. Organic farming is on the forefront of battling the negative impact of mono-culture conventional farming.
We believe in always using the healthiest ingredients available. The non-homogenised Milk supplied by Mossgiel is more easily absorbed by the body, and thus all the vitamins dissolved in the cream are more easily absorbed too.
We believe in always using the tastiest ingredients available. Due to the way Mossgiel Milk is produced – non-homgenised, non-standardised, batch-pasteurised, organic – it takes on flavour better than 'normal' Milk; especially in Coffee!
Physical Marketing Support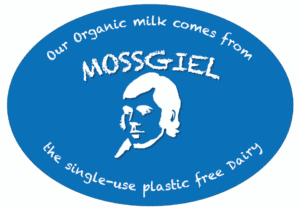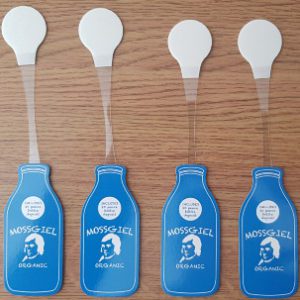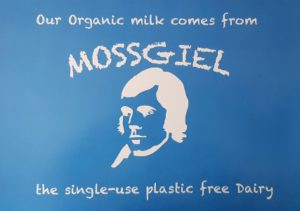 If you would like to order any of these items, please fill out the form below: