Winner of the Slow Food Awards Person of the Year 2019
A lovely end to the year with Bryce becoming the Winner of the Slow Food Awards Person of the Year 2019.
The Slow Food movement promotes food that is produced with an emphasis on quality, not profit.
'Slow Food is for everyone who eats food,' said Fred Berkmiller, Chef Proprietor of L'Escargot Blue which won Best Restaurant.
'I consider slow food to be my grandmother's thinking,' he said. 'People have the right to know where their food is coming from, what it's been fed with. They want to know what they're putting inside their body.'
There was even a lovely write-up in Scottish Field, which you can read here, which said;
"Bryce Cunningham of Mossgiel Farm, winner of the Agriculture category at the Scottish Rural Awards 2019, won Person of the Year at the Slow Food Awards for his sustainable practices.
Mossgiel was the first diary in Scotland to eliminate single use plastic.
'We've managed to create food products in a slow, natural and organic way to bring our passion for food to the cities of Scotland,' Cunningham said. 'I believe in low processed foods and foods that are natural, foods we would have eaten 500 years ago. Supermarkets are chasing profits, not health benefits.' "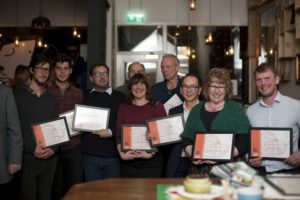 It's great that the slow food movement is gathering strength with each passing year. We certainly notice it, talking to all the wonderful people who own businesses that we supply. It seems that provenance is becoming more and more important to people and we think that this is a very encouraging trend. This move towards slow food – real food – and away from overly industrialised, processed food can only be a good thing, bringing people closer to nature and the seasons. Milk is a seasonal food, for example, and we know that this is something that has been lost from most people's awareness. When the Cows are in the pasture in the height of summer they produce a richer milk than when they are in the byre in the depths of winter (4.9% cream in the summer, 4.5% cream in the winter). Decades ago, this was viewed as a problem. Today, we think that this is something to be embraced and celebrated.